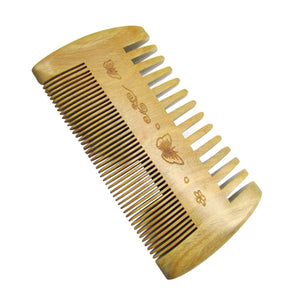 Hand Made Double-sided Natural Sandalwood Verawood Hair Brush Anti-Static Pocket Comb
Regular price $4.00 $14.00 Sale
Description
100% Handmade Green Sandalwood Comb. Comfortable Natural Fragrance: eternal, but not pungent. when you smell it, which will make you relax. Patience of the old master, every comb teeth are carefully polished.

Features
- Color: As shown.
- Material: Sandalwood.
- Size: 10 * 5.5 * 0.8cm / 3.9 * 2.1 * 0.3inch(L * W * H).
- Light and portable, small enough to keep one at home or in your gym bag.
- 100% Handmade of high quality green sandalwood comb with no static.


- This comb has two sides, One side has fine teeth which is designed to really comb and unknit your beard while the other side has wide teeth which is more suitable for styling your beard.
- Wood bristles decrease breakage and damage to the hair. Easier on the scalp than metal & plastic.